Felix Xiaozhu Lin 林 小竹
| | | | | |
| --- | --- | --- | --- | --- |
| Associate Prof. | William Wulf Faculty Fellow | UVA Computer Science | CV | Contact |
PhD in Computer Science (Rice 2014), MS in CS (Tsinghua 2008), and BS in Automation (Tsinghua 2006). Grew up in Chongqing, known for its "3D-stacked" buildings. Before moving to UVA, I spent six great years at Purdue.
We are recruiting! Recent interests:
Geometric deep learning, algorithm x system x hardware: 3D vision, graph neural networks, etc.
Efficient NLP, on-device BERT/GPT
Other systems topics, see below.
At UVA CS, my group is looking for PhD students for building novel software. Our group has a strong builder culture.
See our group page for current students and projects.
Join us in beautiful Virginia!
The UVA campus at sunset, with Blue Ridge mountains in the back. Credit: UVA.
Efforts on refreshing OS education (UVA CS4414/CS6456). Principles: experience-based, with modern contents, and fun. Summary: four projects including an Arm64 baremetal kernel, multicore, trusted execution, and filesystem forensics.
The first offering in Fall'20 as CS6456. Well received! Materials; student feedbacks; schedule
I care about systems software.
Jun 2020: "OS frontiers in the AI era" For UVA graduate students. slides video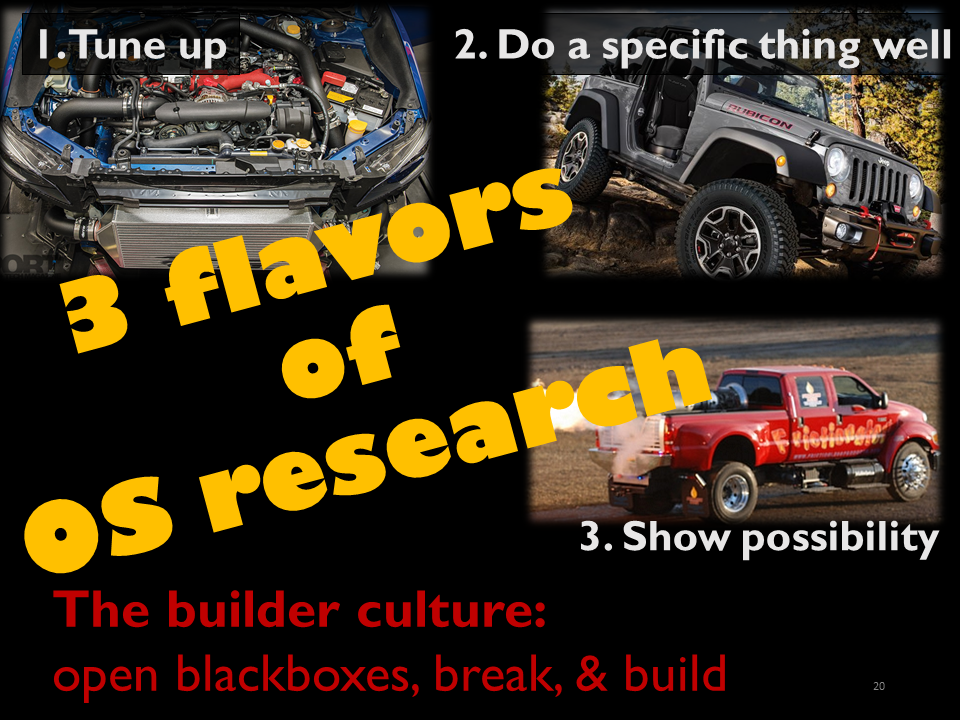 Mar 2019: Overview slides
I work with a group of students with enthusiasm in systems software. See XSEL.
Our current work bases on two premises:
1. Old kernels (e.g. Linux) are firmware
Transkernel: unmodified Linux drivers on microcontroller-like cores (ATC'19 and HotMobile'17).
Overwatch: safeguarding unmodified file systems for IoT devices (preprint)
Power sandbox: power awareness redefined (Eurosys'18).
2. New OSes are defined by scenarios
My PhD work was on OS kernels for smartphones, e.g. the K2 project which won an award in ASPLOS'14. I continue to care about mobile/wearables, e.g. deep learning on them (WWW'19 & MobiCom'18).
Useful
Need a reference letter from me? | How do I determine final grades for undergrad classes? | How do we work with undergrads in research? | To signature requesters | Name in Chinese
We are one-hour from the gorgeous Shenandoah national park. Unlimited outdoor fun. Photo: http://virginia.org